10 Family-Friendly Movies to Watch This Summer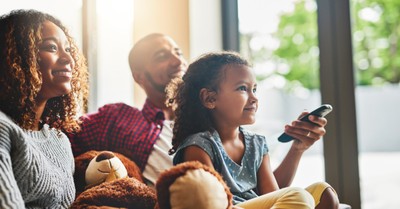 By Betsy St. Amant, Crosswalk.com
We've all been there. It's family movie night, you're piled up on the couch, the recliner, and on floor pillows, tubs of popcorn at the ready and cracking open that cold can of soda. You turn on the TV and…commence endless scrolling through the myriad options. Nothing can bring frustration faster for parents than trying to spend quality time as a family and being lost as to what to watch together. It's incredibly difficult to find a movie that kids of various ages will agree on, and even harder still to find one that would interest a pre-teen or teenager and yet be a flick parents approve of.
Today's culture is all about shock factors and desensitizing, and it can make finding family-friendly movies feel like a near-impossible feat. There have been so many times we've started watching a movie, thinking "surely this one is safe" but had to turn it off a quarter of the way through.
Each family has its own set of standards and filters for what their children watch. Some parents are more lenient with bad language but refuse to allow their kids to watch anything even remotely sexualized. Other parents are more uncomfortable with graphic violence than anything else.
When it comes to screening movies, there are a dozen websites out there that provide content ratings for sexuality, violence, language, and mature themes. However, the safest bet is always to view something yourself first or get a direct referral from a trusted friend who has recently seen it. Also, keep in mind there are screening services available for a fee, such as Vid Angel, that help filter out questionable content in movies.
In the meantime, however, there are plenty of flicks out there that you might not have considered! Keeping in mind each family has their own rating system, here are ten family-friendly movies you might want to try this summer:
1. Holes (2003) PG
Based on the award-winning novel of the same name by Louis Sachar, Holes is a fantastic story of a wrongfully convicted boy who literally dug his way to a new life at a desert detention camp. Starring Shia LaBeouf, Sigourney Weaver, and Jon Voight, Holes provides family entertainment that even your teenagers will enjoy. With themes like destiny, justice, and cruelty vs. kindness, Holes provides great talking points post-movie. It's suggested for ages ten and up, as it contains mild language.
2. Mary Poppins Returns (2018) PG
Mary Poppins Returns is one of my favorite movies of all time, starring Emily Blunt, Lin-Manuel Miranda, Ben Whishaw, and Emily Mortimer. Mary Poppins, played by Emily Blunt, returns to visit the child she once knew, who is now all grown up and in need of assistance with his own children as he grieves the loss of his wife and faces major financial burdens. With stunning visual effects and a wonderful mix of reality with whimsy, Mary Poppins Returns is destined to be a family favorite you can watch time and time again.
3. The Secret Life of Pets (2016) PG and The Secret Life of Pets 2 (2019) PG
Both of these animated films provide a hilarious look into the daily life of the pets we leave behind each day. From neighborly antics to territory wars, to crime rings and saving their friends, The Secret Life of Pets and The Secret Life of Pets 2 are surprisingly well-plotted and entertaining, even for teens and adults—and will make you look twice at your pet before you leave for work each day. Voiced by stars such as Ellie Kemper, Dana Carvey, Kevin Hart, and Harrison Ford, both flicks contain a few religious exclamations and animated action violence.
4. Sing 2 (2021) PG
Sing 2 is a sequel to Sing, which is also a great movie, but I think Sing 2 is even more entertaining. The original cast from Sing is back, this time under pressure to put on a fabulous show and convince a once-famous singer who gave up on his career to return to the stage—all to save the life of their dear Mr. Moon. Voiced by Reese Witherspoon, Matthew McConaughey, Tori Kelly, Scarlett Johansson, and Nick Offerman, Sing 2 is a quality, animated musical with hit songs that will have the whole family singing along. The only language is mild name-calling in various forms.
5. Family Camp (2022) PG
Family Camp has gotten hit reviews this year! Starring Leigh-Allyn Baker, Cece Kelly, Eddie James, and others, Family Camp is a squeaky-clean Christian comedy about two polar-opposite families who are forced to camp together and compete for the coveted camp trophy. With themes of forgiveness, working together, and quality time, Family Camp is a surprisingly emotional, uplifting comedy that all ages will relate to and enjoy together.
6. Jurassic World 1-3 (PG-13)
With the recent release in theaters of Jurassic World: Dominion, parents might be interested in going back and watching the first two in this new trilogy starring Chris Pratt and Bryce Dallas Howard. Tying directly back to the original beloved Jurassic Park series from the 1990s, the new Jurassic World trilogy takes on scarier dinosaurs, bigger themes, and greater special effects that are well worth the time to watch. Jurassic World, Jurassic World: Fallen Kingdom, and Jurassic World: Dominion are rated PG-13 for violence, jump scenes, language, and sexual innuendos. Best enjoyed by teenagers and older.
7. Jungle Cruise (2021) PG-13
Based on the ride at Disney Parks, Jungle Cruise is a live-action flick starring Dwayne Johnson, Emily Blunt, Paul Giamatti, and Jack Whitehall. It follows the tale of a female researcher in the early 1900s who recruits the help of her brother and a legendary boat captain to take her upriver to South America in search of an ancient tree. With a surprising twist, a well-orchestrated plot, fantastic acting, and visual interest, Jungle Cruise is one not to miss! Rated PG-13 for mild language, one veiled reference to homosexuality, and action violence.
8. Hotel Transylvania: Transformania (2022) PG
Hotel Transylvania: Transformania is the fourth in the animated Hotel Transylvania movie series and offers fresh new entertainment voiced by Adam Sandler, Selena Gomez, Andy Samberg, and more. This time, the lovable crew at the hotel are navigating the comedic and disastrous results of an invention that accidentally turned Drac and his pals into humans and turned Johnny (the only human) into a monster. It contains solid family themes of identity, acceptance, and the importance of always telling the truth. Rated PG for cartoon nudity (not explicit) and animated violence.
9. Encanto (2022) PG
The new release Encanto has rapidly become a much beloved and talked about family flick. It features a young girl who is the first in her family to not have received a gift of a special power. Therefore, she feels she doesn't fit in and tries to find a way to earn herself back in her family's favor. Of course, that doesn't go as planned. With themes of working together, identity and belonging, and facing problems head-on, Encanto is a movie the whole family will enjoy. It's rated PG for animated violence.
10. The Greatest Showman (2017) PG
If you haven't seen this major box-office hit from a few years ago, you're missing out. The Greatest Showman, starring big names Hugh Jackman, Michelle Williams, Zac Efron, and Zendaya, is a fascinating musical set in the circus, with lots of visual interest, quality music, incredible talent, and a moving, family-oriented plot. It follows the story of a man coming from poverty making something of his life for his wife and two daughters and becoming famous a little faster than he can keep up. As this PG film edges more toward PG-13 in the arena of wardrobe modesty, religious exclamations, and implications of adultery, it might be better understood and enjoyed by ages 13 and up.
Photo Credit: ©Getty Images/People Image
Related podcast:
The views and opinions expressed in this podcast are those of the speakers and do not necessarily reflect the views or positions of Salem Web Network and Salem Media Group.
Related video:
In the video are 5 Tips for Decluttering Your Space by Michelle S. Lazurek.