Southern Raised Bluegrass Performs Unique Cover Of 'Jolene' - More Music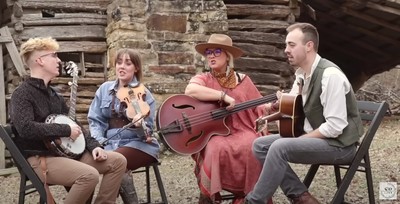 By from GodTube.com, Crosswalk.com
Their unique sound spans several genres, including bluegrass, Christian, classical, and Celtic. It creates a toe-tapping and hauntingly beautiful rendition of 'Jolene.' Their performance takes place at an old homestead surrounded by a forest which lends to the haunting plea of their rendition of 'Jolene.' This stunning cover has now gone viral, with more than 300,000 views in a week.
One viewer commented, "Absolutely beautiful. Such a classic. Y'all did Dolly proud I feel." Those who watched the video couldn't help but agree: "Brilliant! I love it, and I bet Dolly does too. This has to be the best cover of Jolene ever done." Other viewers who flocked to their YouTube channel not only liked their performance but also appreciate the unique sound of the band.
Southern Raised consists of four siblings, Lindsay, Emily, Matt, and Alex, raised in the Ozark mountains. They began playing music as children. Raised on classical and bluegrass music, the siblings play the violin, banjo, bass, and guitar, just to name a few of the instruments they can collectively play. When they perform, the music and their voices are incredible. Who knew Bluegrass and Celtic genres could mix so well?
When asked about their music, they posted to their YouTube channel, "Southern Raised-committed to the Lord and each other and bringing their music to the people defines this group that is sweeping the country with a sound that has been described as 'The other side of amazing.'
There is a warmth and realness about them that draws you in, making them one of the best, most unique sounds on the scene. They have the distinct ability to cross genres, winning the hearts of all who hear them."
We couldn't agree more! I love how they honor God with their talent and their hearts.
"There are different kinds of gifts, but the same Spirit distributes them. There are different kinds of service, but the same Lord. There are different kinds of working, but in all of them and in everyone it is the same God at work, 1 Corinthians 12:4-6."
Video, Photo, and Content Credit: ©GodTube