13-Year-Old Turns Into Viral Sensation With 'Moon River' Blind Audition - Audition Videos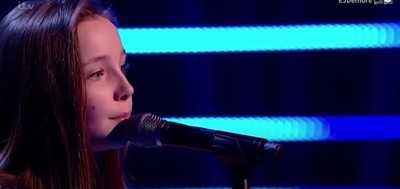 By from GodTube.com, Crosswalk.com
"Moon river, wider than a mile, I'm crossing you in style some day, oh, dream maker
You heart breaker, wherever you're goin', I'm goin' your way, two drifters
Off to see the world, there's such a lot of world to see, we're after the same
Rainbow's end, waitin' 'round the bend, my huckleberry friend, moon river and me"
This classic song was written by Henry Mancini and originally performed by Audrey Hepburn in the 1961 movie Breakfast at Tiffany's. In this video clip, a 13-year-old named Lucy Thomas from England does a marvelous performance of the song in her own way.
At the beginning of the audition, Lucy looks a little nervous. But she does a beautiful job right from her first note, and she has the audience up on their feet immediately cheering for her. Lucy's family is also cheering her on offstage, and they look so proud of her. The judges also look so impressed with Lucy's performance.
"Lucy is a beautiful, gifted young lady! Just love her voice and the style with which she sings!" comments one person on YouTube after watching the audition video.
"Undoubtedly the best rendition of this song I have ever heard," another person writes online.
After her audition on The Voice, Lucy started winning the hearts of millions across the world with her many amazing performances. She now has 3 CDs to her name and a YouTube channel with hundreds of thousands of subscribers and millions of video views.
Way to go, Lucy! What an amazing performance of 'Moon River' and it is wonderful to see how her audition on The Voice brought her much success.
Video, Content, and Photo Credit: ©GodTube