American Idol Finalist HunterGirl Performs Original Inspired by Veterans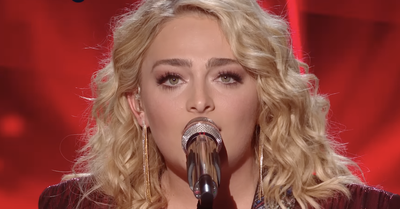 By Leah Arthur, Crosswalk.com
Although she didn't win season 20 of American Idol, contestant HunterGirl has gained countless fans for her unique country sound and heartfelt songwriting. Before coming onto the show, she worked as a musical therapist for veterans struggling with post-traumatic stress disorder, helping them process their experiences by turning them into songs. The 23-year-old from Winchester, Tennessee, impressed the judges back in February when she first auditioned. Aside from her selfless heart, they were drawn in by her voice that cut through and beautifully told the story of the lyrics she sang.
HunterGirl made it to the top 3 of the competition by singing hit songs like "Dancing in the Dark" by Bruce Springsteen, "9 to 5" by Dolly Parton, and "Undo It" by Carrie Underwood. Where she really showed her ability to make it big was when she performed her originals, "Heartbreak Down" and "Red Bird," which received praise from the judges and viewers. In "Red Bird" she sings, "Mama told me when I was a kid. When a red bird flies, close your eyes, make a wish. Right around the time my faith went missing, praying for an angel but the wings look different. God if you're listening, could you send me one down?" HunterGirl explains that red birds remind her of loved ones who have passed away. She truly shows the ability of music to touch hearts and offer healing. What a blessing from God!
Fans were quick to express how they related to her song. One touched viewer commented: "I can't listen to this without crying. I lost my sister last August to COVID and this song touches my heart so so much." Another said, "As a combat veteran, I can tell you without a doubt that volunteers like this young lady often make all the difference in a successful transition into civilian life. These are the angels that many of us rely on when we come home. God bless her and all the others like her."
Related Videos:
American Idol Winner Noah Thompson Dedicates 'You've Got a Friend in Me' to Best Friend
Choir On Plane Sings For Fallen Soldier Being Escorted Home
Photo credit: ©YouTube