American Idol Winner Iam Tongi and James Blunt Sing 'Monsters' Duet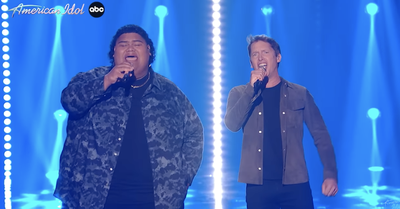 By from GodTube.com, Crosswalk.com
Another season of American Idol has concluded with voters selecting their favorite singer, crowning Iam Tongi with the top spot. Iam consistently turned in terrific, heartfelt performances that captivated audiences and won him lavish praise from the judges.
In one of his last performances on the show, Iam teamed up with James Blunt for a duet. They sang James's song "Monsters," which was Iam's original audition song. Much like that first audition in front of Katy Perry, Lionel Richie and Luke Bryan, he was overwhelmed with emotions.
In the clip posted on YouTube, the tears began falling almost immediately after the music started. Iam wipes his eyes with his sleeve several times. At approximately the 1:05-minute mark, Iam tries to sing the song and only manages to get a few lyrics out before it becomes too much for the young man.
Iam wasn't the only person overcome with emotion during the duet with James. The camera catches Katy who is crying even harder than Iam. Luke also appears to have been touched by the duet, with tears welling up in his eyes.
Despite the tears in his eyes, Iam somehow pulls it together and finishes the song. It was a touching performance and one of the reasons why the judges and the audience fell in love with the young man from Hawaii. When he performs, he does so with his emotions front and center, making for an authentic experience.
Iam's win on American Idol was very well deserved. His future is exceptionally bright and most people likely cannot wait to see how far Iam goes in his musical career.
Best of luck, young man!
Proverbs 23:22 "Listen to your father who gave you life, and don't despise your mother when she is old."
This content originally appeared on Godtube.com; used with permission.
Photo credit: ©YouTube/American Idol