'Good Good Father' - Chris Tomlin Performs With Songwriter Pat Barrett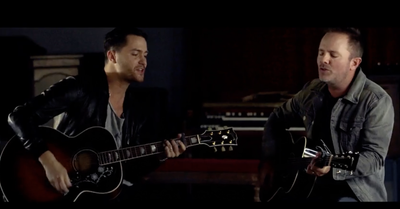 By from GodTube.com, Crosswalk.com
'Good Good Father' - Chris Tomlin Performs With Songwriter Pat Barrett from chris-tomlin on GodTube.
The worship song 'Good Good Father' was made famous by Chris Tomlin and since then, it's swept the nation.
Now, it's become one of the most iconic Christian songs and a favorite for other artists to cover.

"You're a good good Father
It's who You are, it's who You are, it's who You are
And I'm loved by You
It's who I am, it's who I am, it's who I am"

Today, we get to hear a very special rendition of this song from Chris Tomlin and the writer of the hit, Pat Barrett. Powerful worship songs like 'Good Good Father' only come along once in a lifetime, so it's no wonder everyone enjoys singing it out loud. God has truly given us so many blessings in this life and we give thanks to Him each and every day.

"Oh, it's love so undeniable
I, I can hardly speak
Peace so unexplainable
I, I can hardly think
As You call me deeper still"

God made the ultimate sacrifice for us when He sent His only Son to Earth to die for our sins. Because of this gift, we are now forgiven and free to live out our days in Heaven above.

This amazing sacrifice paved the way to our salvation. This song is the perfect way to give praise to His name.

Can I get an amen?

1 John 3:1 "See what great love the Father has lavished on us, that we should be called children of God! And that is what we are! The reason the world does not know us is that it did not know him."
Originally published on GodTube.com, used with permission.
Photo credit: GodTube.com/YouTube.com