'Thank God I Do' Lauren Daigle Lyric Video - Christian Music Videos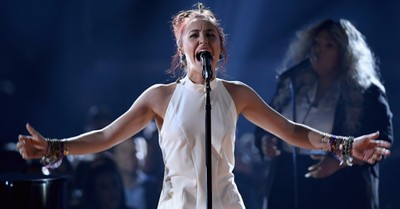 By from GodTube.com, Crosswalk.com
Life is often unpredictable and overwhelming, which can cause pain, hurt and heartache. Most, during their struggle, will hunt and search for answers. Thankfully, there is One who has a plan, has everything under control and possesses a peace that surpasses all understanding.
Lauren's latest song, "Thank God I Do," is about not having to face those struggles and problems of life all alone. Lauren also sings she's grateful that she does not have to go through life herself because she would not be able to do it.
In the official lyric video for Lauren's song, not only do people watching get to hear the beautiful words and melody, but they get to read along as the lyrics appear on the screen.
In the song's opening verse, Lauren mentions how she has endured a difficult year. She has shed many tears, fought off her fears and encountered periods of darkness. All of this, she sings, has left her with many questions.
However, in the chorus, Lauren sings that even when she faces these situations, she knows He is with her. Lauren would be lost if the Lord were not protecting her and had her in His hand.
"I don't know where I'd go
If you ever let go
So keep me held in your hands"
In the second verse, Lauren sings thanks to the Lord. Things are starting to improve. The weight and the burden that she was feeling has been removed. When Christ is by her side, she is not missing anything. Breathing is now easier. Everything in life, the lyrics state, has become a lot less complicated.
The beautiful song ends with Lauren, once again, singing that she's thankful she knows Christ, His peace and His protection.
Deuteronomy 20:4 "For the Lord your God is he that goes with you, to fight for you against your enemies, to save you."
This content originally appeared on Godtube.com; used with permission.
Photo credit: ©Getty Images/Ethan Miller/Staff