The Voice Alum Emily Ann Roberts Sings 'Mary Did You Know' Country Style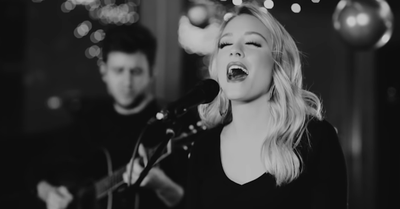 By from GodTube.com, Crosswalk.com
Over the years, this powerful song has become a modern-day classic with thousands of covers all over the world. We first met Emily Ann Roberts when she was a finalist on the ninth season of The Voice. Today, Emily is putting her own spin on the beloved song, 'Mary Did You Know,' and it's absolutely incredible. What a beautiful reminder of the real reason for the Christmas season.
'Mary did you know that your baby boy will give sight to a blind man?
Mary did you know that your baby boy will calm a storm with his hand?
Did you know that your baby boy has walked where angels trod?
When you kiss your little baby, you kiss the face of God'
It took Christian singer-songwriter Mark Lowry over seven years to perfect these iconic lyrics. Mark first thought of the idea for the song while he was writing a Christmas program for Jerry Falwell. He began to ponder what he would ask Mary if she was sitting right in front of him. He started to think about how Mary must have felt when she found out the news that she would birth the child of God. Then, he put together the questions that eventually became the lyrics we all know and love today.
'Mary did you know that your baby boy is Lord of all creation?
Mary did you know that your baby boy would one day rule the nations?
Did you know that your baby boy is heaven's perfect lamb? That sleeping child you're holding is the great I am'
Photo credit: ©GodTube/SWN