5 Scriptures Revealing Your True Identity as a Christian Woman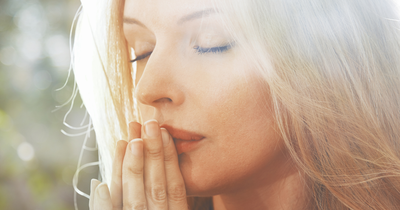 By Crosswalk.com Editorial Staff, Crosswalk.com
Do you ever grapple with feelings of inadequacy? Find yourself wrestling with lingering guilt or shame? Perhaps you navigate social situations with a nagging sense of insecurity. It's also quite common to catch yourself in the act of comparing your life to others' or feeling a twinge of envy for what you don't yet have. If any of these scenarios resonate with you, rest assured, you're not alone.
What we believe about ourselves can either empower or hinder us. We can change our behavior when we change our thinking, and we can start that transformation today by embracing who God says we are. When we fully comprehend our identity in Christ—the gifts and strengths He has bestowed upon us—we can harness His power in our lives in ways we might never have imagined. By understanding our identity in Christ, we can break free from the labels we've placed upon ourselves.
As Christian women, we can turn to scripture to gain assurance about who we are and how God sees us, regardless of the stage of life we're in. Will you embark on this transformative journey to release the labels the enemy has placed on you and wholeheartedly embrace the identity your loving Savior has bestowed upon you?
As we read this Scripture, let's pray this over ourselves:
Father God, I ask for Your wisdom to discern the truth from the lies that surround me. Open my eyes to see myself as You see me, fearfully and wonderfully made in Your image. Let Your Word be a lamp unto my feet, guiding me on this transformative journey of self-discovery.
Fill me with the knowledge of Your boundless love and grace, Lord. May I find my worth and value in Your unchanging love rather than the fleeting opinions of others. Help me to stand firm in my identity as a daughter of the Most High God, chosen, cherished, and called for a purpose.
Lord, empower me to silence the voices that seek to define me and drown out the noise of comparison. Instead, let me hear Your gentle whisper of affirmation and love. Grant me the courage to break free from the constraints of the world and walk confidently in the path You have laid out for me.
As I embrace my identity in Christ, may I be a beacon of Your light and love to others, helping them discover their true selves in You as well. Use me, Lord, as a vessel of Your grace and truth.
In Jesus' precious name, I pray. Amen.
Here are 5 Scriptures revealing your true identity as a woman of God:
1. You are justified-completely forgiven and made righteous. - Romans 5:1
Romans 5:1 reminds us that we have been declared righteous by God because we have faith in Jesus Christ. This means that our sins are forgiven and we are in a right relationship with Him. As a result, we have peace with God.
You can be confident that you are forgiven and accepted by God. No matter what you have done in the past, God loves you and wants to have a relationship with you. You can trust Him to work everything out for your good.
Here are some specific ways that you can apply Romans 5:1 to your life:
When you are feeling guilty or ashamed, remember that your sins are forgiven and that you are accepted by God.
When you are going through a difficult time, trust God to work everything out for your good.
When you are feeling anxious or stressed, remember that you have the hope of eternal life.
2. You are God's Masterpiece created in Christ Jesus to do the things He planned for you long ago. - Ephesians 2:10
This verse means that we are created by God, and that He has a purpose for our lives. We are not here by accident. God has created us with unique gifts and talents, and He wants us to use them to do good works that glorify Him.
Ephesians 2:10 is significant for our identity because it tells us that we are valued and loved by God. We are not just meaningless people wandering through the world. We are His handiwork, and He has a special plan for each of us.
Ask yourself:
What are you good at? What do you enjoy doing?
How can you use your gifts and talents to help others?
What good works has God prepared for you to do?
3. You are a new creation, the old you is gone. - 2 Corinthians 5:17
Say goodbye to sin and rebellion, and say hello to your new life in Christ!
When we confess and repent our sins, we acknowledge that we are imperfect people loved by a perfect God.
In the same way that God forgives us, we should extend that mercy and show compassion to those who have wronged us.
God's love for you is everlasting, unconditional and transforming! When you know that God loves you and has a plan for your life, it can give you a sense of purpose.
To be loved means to be worthy of love and to have something special to offer.
Here are a few ways that living a pure life can lead to greater love:
When we are honest with others, it builds trust and intimacy.
When we are kind and compassionate to others, it shows them the love of God.
When we use our time and resources wisely, we can be more generous and help others in need.
5. You don't have the spirit of fear. You have the spirit of love, power, and self-discipline. - 2 Timothy 1:7
As Christians, we are commanded to be bold and courageous.
Here are some specific examples of ways you can put 2 Timothy 1:7 into action:
Afraid to give a presentation at work? Prays and ask God for help. Trust that He will give you the words to say and the courage to speak them.
Feeling tempted to do something that you know is wrong? Resist the fear and choose to do what is right. Remember that God has given you the power to choose your own actions.
Tired of dealing with a rude neighbor? Show them compassion and forgiveness. Remember that God loves everyone, even those who are sinners.
Listen Now to Discover 13 More Scriptures Revealing Your True Identity As a Christian Woman:
Podcaster and author Kim Dolan Leto shares the remaining 13 truths about your identity in her podcast, Strong. Confident. His. Tune in to the show to hear them, and don't forget to subscribe on Apple Podcasts or Spotify so you never miss an episode!
Photo courtesy: ©Arman Zhenikeyev via Canva.com